The visiting Victoria Royals (48-20-1-3, 100pts) wrapped up the regular season with a 3-2 loss to the Everett Silvertips Saturday, and will now face the Spokane Chiefs in round one of the playoffs.
"We're excited, we're going to see a new opponent for a change in the first round…there's going to be a lot of travel that's going to be incured here, so it's important that we're ready to go on the weekend…"
– Royals Head Coach Dave Lowry
Everett scores on the power play
The Royals got swept by the Silvertips in the home and home, after falling 5-3 in Victoria one night earlier.
Victoria suffered their 3rd straight set back, while Everett won their 9th in a row, and have points in 12 straight games.
A sellout crowd of 8,290 at Comcast Arena in Everett
Saturday night, the Royals led 1-0 after 20 minutes on Logan Nelson's (23rd) breakaway goal, but down 2-1 heading into the third. Tyler Soy scored his 15th to tie the game late, but the 'Tips struck with 90 seconds left on a 2 on 1 to restore their lead.
"I've got no problem with the way our club competed tonight, real proud of the way we came back after losing at home…we were able to battle back, tie the game, made a mistake and it ended up costing us."
Said Lowry
Soy who was also involved in a spirited tilt with Noah Juulsen, earned his 30th point, passing Brandon Magee for 2nd in rookie scoring in franchise history. Kevin Sundher holds the record at 39 points.
"It feels pretty good,
" said Soy on passing Magee's 29 points as a rookie.
"Brandon (Magee) was giving me a hard time, but I said, "Hey, you passed it to me on that last goal, so I wouldn't of gotten there without you," so it was pretty funny…"
It was also Soy's first WHL fight.
"It was a passionate game, a lot of emotions coming from both sides. We fought hard but didn't get the result we wanted. Moving into the playoffs that's the way we need to play."
Brandon Fushimi fought Dawson Leedahl in the second, in an emotional and physical game.
Victoria outshot Everett 9-3 in the 3rd, but Everett held the overall shot advatage 25-24. Austin Lotz made 22 save for the win, while Coleman Vollrath also stopped 22 pucks in the loss.
The Royals were 0 for 1 on the power play while the Silvertips went 1 for 3.
It was a franchise record setting season for Victoria, with 48 wins, 100 points, record road wins with 26, home wins with 22, points in consecutive games with 14, scoring the most goals (238), while allowing the fewest against (181) in a season, having a positive goal differential (+57), and cracking the CHL Top 10.
Brandon Magee is the Royals regular season scoring winner with 67pts. Austin Carroll scored the most goals with 34. The Royals had 6 players with 20 or more goals and 6 with 50 or more points.
Nelson celebrates a 1-0 lead
Victoria has clinched 3rd in the West and home ice in the first round, facing Spokane beginning Saturday and Sunday.
It's not the first time the franchise has met the Chiefs.
Steven Hodges and Brandon Magee have both played Spokane in the playoffs, back in their rookie season with Chilliwack.
The Bruins fell in five to the Chiefs.
Victoria has a 1-3 record against Spokane this season, and the Chiefs feature the league's scoring race winner, Mitch Holmberg with 118 points, including 62 goals.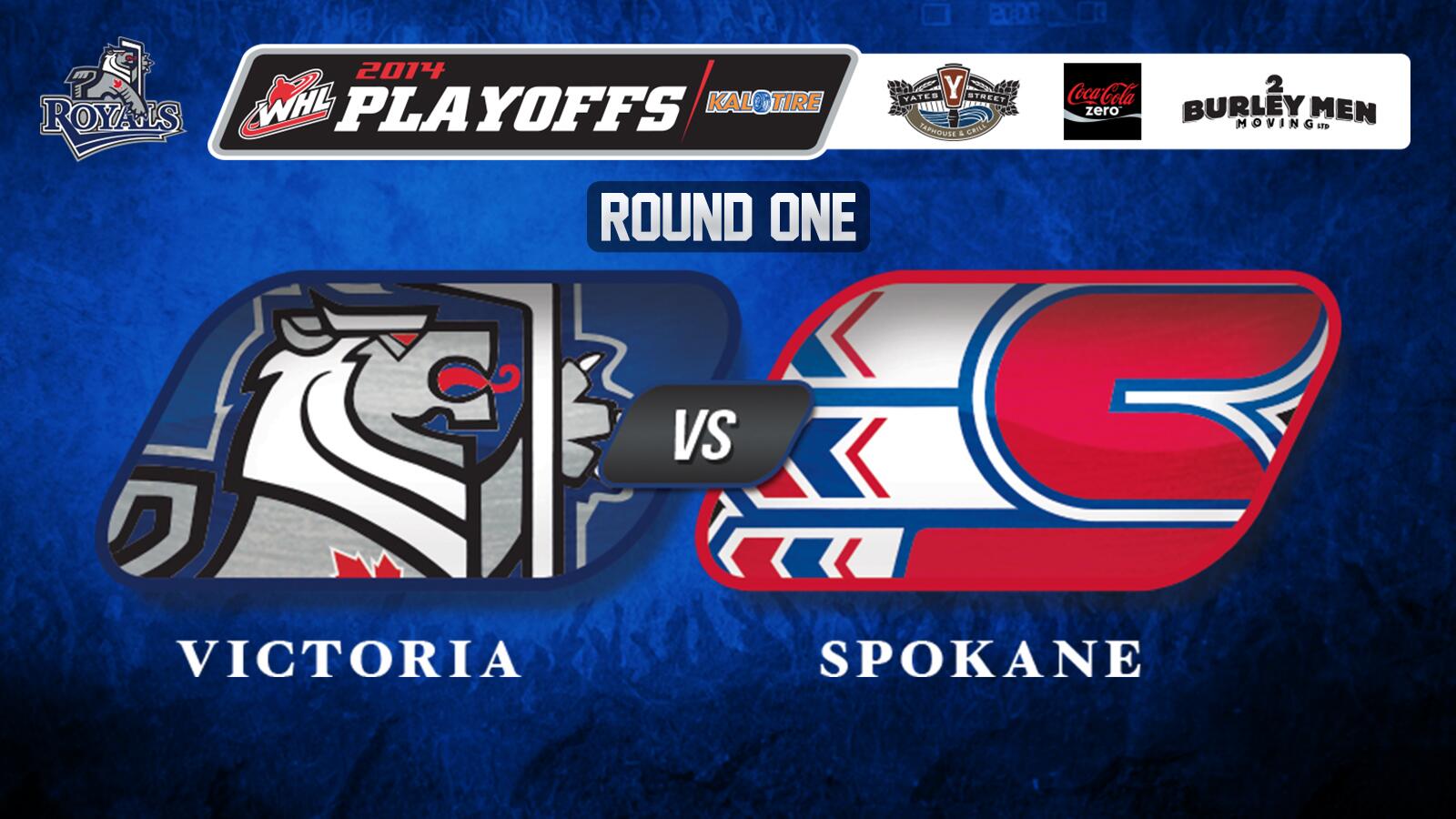 Series Schedule:
Satuday, March 22nd Spokane @ Victoria 7:05 p.m.
Sunday, March 23rd Spokane @ Victoria 5:05 p.m.
Wednesday, March 26th Victoria @ Spokane 7:05 p.m.
Thursday, March 27th Victoria @ Spokane 7:35 p.m.
Saturday, March 29th Spokane @ Victoria 7:05 p.m. (if necessary)
Monday, March 31st Victoria @ Spokane 7:05 p.m. (if necessary)
Wednesday, April 2nd Spokane @ Victoria 7:05 p.m. (if necessary)
Single game tickets to the first two games of the Royals' 2014 WHL Playoff run versus the Spokane Chiefs are on sale now at the Select Your Tickets box office and start at just $13!
Game one of Round A is set for Saturday, March 22nd with a 7:05 p.m. puck drop while game two is slated for the following night at 5:05 p.m. Remaining dates will be announced shortly.
Money Mart Mad Monday will also return for the playoffs! Mad Monday tickets are available for just $6 in-person only at the Select Your Tickets box office beginning at 9:30 a.m. on Monday, March 17th. Quantities are limited and orders are restricted to four tickets per person.
Playoff packages and Royals 2014-15 season tickets are on sale now! The next 10 fans to place a deposit on season tickets for next season will receive complimentary tickets for all Round A home playoff games. Current season ticket holders are also eligible for over $6,000 in prizes when they renew their seats before tomorrow! Guarantee the BEST seats at the BEST prices with the BEST benefits for all 36 home games by visiting www.victoriaroyals.com or calling 250-220-7889.
- Marlon Martens
Victoria Royals 2 at Everett Silvertips 3 - Status: Final
Saturday, March 15, 2014 - Comcast Arena - Everett, WA
Victoria 1 0 1 - 2
Everett 0 2 1 - 3
1st Period-
1, Victoria, Nelson 23 (Hicketts), 18:51.
Penalties-Soy Vic (major-fighting), 10:00; Juulsen Evt (major-fighting), 10:07; Nelson Vic (high sticking), 10:18; Khaira Evt (slashing), 19:52.
2nd Period-
2, Everett, Mueller 5 (Stadnyk, Hayer), 7:12 (PP).
3, Everett, Betker 7 (Hayer, Bajkov), 14:52.
Penalties-Reddekopp Vic (tripping), 5:42; Fushimi Vic (major-fighting), 14:16; Leedahl Evt (major-fighting), 14:16; Carroll Vic (roughing), 16:54; Kanzig Vic (roughing), 16:54; Winquist Evt (roughing), 16:54; Hodges Vic (cross checking), 19:37; Juulsen Evt (checking from behind), 19:37.
3rd Period-
4, Victoria, Soy 15 (Magee), 16:29.
5, Everett, Stadnyk 23 (Leedahl), 18:32.
Penalties-No Penalties
Shots on Goal-
Victoria 10-5-9-24.
Everett 13-9-3-25.
Power Play Opportunities-
Victoria 0 / 1;
Everett 1 / 3.
Goalies-
Victoria, Vollrath 20-8-1-1 (25 shots-22 saves).
Everett, Lotz 31-18-3-2 (24 shots-22 saves).
A-8,290
Referees-Mike Campbell (89), Brett Montsion (54).
Linesmen-Adam Brastad (132), Bevan Mills (98).